Laurentian University
The main venue location is Laurentian University located on the south side of Ramsey Lake, just south of Greater Sudbury's downtown core; a vibrant urban centre rich with arts and culture. The campus is nestled in a community that boasts more than 300 lakes, Laurentian University's Sudbury campus is known for its picturesque landscape, offering countless outdoor opportunities.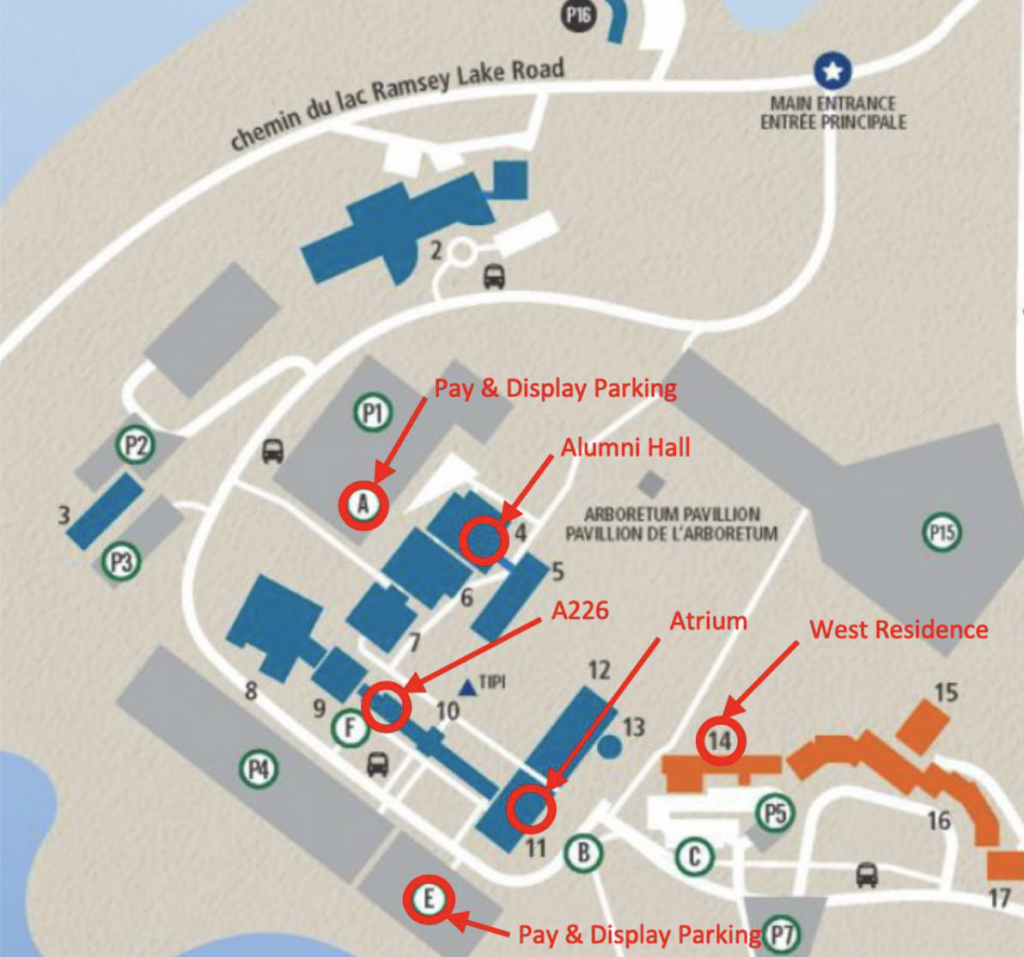 Workshop Parking
Pay & Display Parking – Lots A & E
Thursday & Friday ($8/day)
Saturday & Sunday (free)
Workshop Venues
Lecture Hall – A226
All sessions take place here.
Alumni Hall
The poster session and meals are located here.
Atrium
This is the workshop bus drop-off and pick-up point.
Travel to Sudbury
Driving to Sudbury
Sudbury is located in Ontario, 344 km north of Toronto, 431 km west of Ottawa, 219 km south of Timmins and 654 km east of Thunder Bay. Google Maps may be helpful to map your route.
Flying to to Sudbury
The following airlines have service to Sudbury:
Air Canada (Toronto Pearson Airport)
Porter Airlines (Toronto City Airport)
The Sudbury Airport is located 20 km northeast of the city centre and is served by public transportation, taxi and a number of car rental service. Please refer to the Sudbury Airport ground transportation page for more information.
Traveling to Sudbury by bus
The following bus lines have service to Sudbury:
Traveling to Sudbury by train
ViaRail offers limited train service to Sudbury. Please note that the Sudbury train station is located outside of the city centre.
Things to do in Sudbury
Please visit the Sudbury Tourism for more information on what Sudbury as to offer.
Places to eat in Sudbury
For a list of diverse restaurants and local craft brews please see this list of restaurants in Sudbury.
Travel to Canada
Participants need to ensure that they have the proper travel documents and visas to enter Canada. Click HERE for full details regarding visas, customs, tax refunds and travel.

Travel
If you require a letter for Visa or travel purposes, please contact Blaire Flynn at: Blaire.Flynn[at]snolab.ca